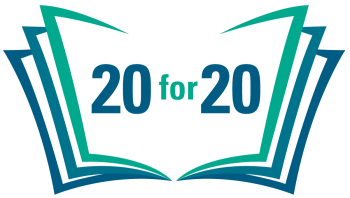 Cel­e­brate the 20th anniver­sary of the DeKalb Library Foun­da­tion by becom­ing a 20 for 20 Donor! The DeKalb Library Foun­da­tion pro­vides sup­port beyond tax dol­lars that allows the DeKalb Coun­ty Pub­lic Library to grow edu­ca­tion­al, cul­tur­al and lit­er­a­cy pro­grams. Your ongo­ing sup­port ensures that the Foun­da­tion will con­tin­ue to fund mean­ing­ful and edu­ca­tion­al pro­grams that enrich the lives of cit­i­zens across DeKalb Coun­ty for many years to come.
Go to our dona­tion por­tal and click 20 for 20 and set up a recur­ring dona­tion of $20.00 per month.
All 20 for 20 Donors will be rec­og­nized in our annu­al newslet­ter and may enjoy oth­er perks. Addi­tion­al­ly, your sup­port will allow the Foun­da­tion to con­tin­ue and expand spe­cial pro­gram­ming such as 1000 Books Before Kinder­garten, PRIME TIME Preschool, Library Mini Grants and Take the Inter­net Home with You.
Thank you to our 20 for 20 Donors in 2020:
Car­rie Armis­tead
Jane Watt Bal­s­ley
Cyn­de Beck­n­er
Paul and Sarah Bene­dict
Eliz­a­beth A. Brack­en
J. Phillip and Jen­nifer Carv­er
Julie Childs
Mil­dred Cody
Emma Daw­son
Anna Dun­lany
Sal­ly Dunn
Amber J. Gard­ner
Annie God­frey and Jack Kit­tle
Regine Haar­do­er­fer
Kris­ten Heit­man
Jill Joplin
Ragi­ni Kud­chad­kar and Gra­ham Reiney
Adi­na Langer
Sher­rie Nicole Lee
Vic­ki Karnes and Beth Lot­ter­hos
Mol­ly and Scott Mar­rah
Scott McAuley
Shan­non McDuffie
Franklynn Moore
Emi­ly Novic­ki
Roger and Joan­na Quillen
Ann and Steve Rush­ing
Kim­ber­ly Samp­son
Shara and Gar­rett Sanders
Beth A. Schnei­der
Von­treale Ter­ry
John Thiel­man
Kim­ber­ly Thiessen
Deb­bie Tor­bush
Stephanie Van Parys
Tere­sa Weaver
Ali­son and Chris Weissinger
Angela C. White
Mar­garet and John Willingham