Your End of Year Sup­port Makes a Dif­fer­ence!

Dona­tions to the DeKalb Library Foun­da­tion in 2022 allowed DeKalb Coun­ty Pub­lic Library (DCPL) to offer more than 200 pro­grams attend­ed by more than 4,000 chil­dren and adults.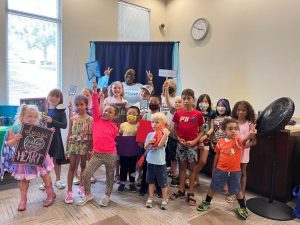 Vis­i­tors to the Embry Hills Library come for more than just books. One day they may go on an archae­ol­o­gy dig for dinosaur bones. Their next vis­it might include a trip to the local fire sta­tion. They may enjoy donuts with their par­ent or guardian or cre­ate no-sew pil­lows. Or they may learn how to bet­ter man­age their feel­ings at one of the many Rais­ing Resilience sta­tions. Librar­i­an Eri­ca L. hosts these cre­ative pro­grams. ​"I plan for the entire fam­i­ly," she explains. ​"When a child wants to come to the library, a par­ent wants to come too."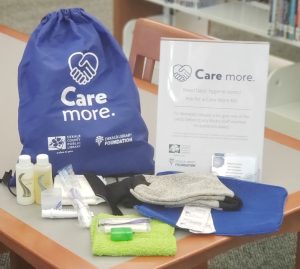 DCPL con­tin­ues to extend ser­vices to meet the needs of the com­mu­ni­ty. Since the pan­dem­ic, librar­i­ans noticed an increase in patrons seek­ing assis­tance for hous­ing and oth­er ser­vices. One day a vis­i­tor to the Clark­ston Library asked staff if the library pro­vid­ed hygiene kits for those in need. This ques­tion sparked the idea for Care More Kits, which con­tain per­son­al care items and socks in a water­proof bag. ​"The intent is to pro­vide com­mu­ni­ty mem­bers with tools to main­tain a sense of dig­ni­ty," explained Redan-Trot­ti Librar­i­an Mar­cie H., a mem­ber of the group that assem­bled the 350 kits. Patrons great­ly appre­ci­ate this ini­tia­tive — they request­ed almost all the kits with­in a few months.
Gifts to the DeKalb Library Foun­da­tion empow­er DCPL librar­i­ans to cre­ative­ly plan pro­grams such as these. Please con­sid­er a gift before the end of the year to sup­port our librar­i­ans' 2023 pro­gram­ming ideas.
A gift in any amount helps. Thank you.