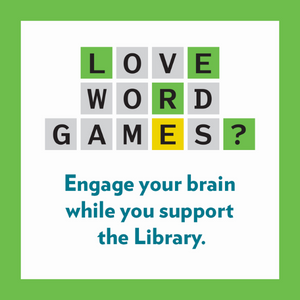 Tax­pay­er dol­lars enable the very exis­tence of the library. But gifts to the DeKalb Library Foun­da­tion empow­er DCPL librar­i­ans to cre­ate inno­v­a­tive pro­grams that ben­e­fit their patrons. These pro­grams pro­vide com­mu­ni­ty mem­bers the oppor­tu­ni­ty to gain knowl­edge, build con­fi­dence, and uncov­er skills they might not have known they had.
Play our word game by down­load­ing a copy here.
Already have a copy? Click here for clues.
Want to check your answers? Click here.
Please par­tic­i­pate in our spring cam­paign with a gift which will inspire our librar­i­ans' cre­ativ­i­ty and ignite our patrons' smiles.