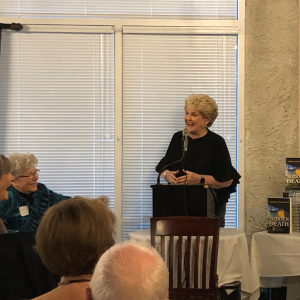 Car­olyn and Bill Cur­ry delight­ed guests at the Books+Bites pro­gram on June 21, 2023, fea­tur­ing Carolyn's nov­el, Sud­den Death. Car­olyn and Bill shared sto­ries from their life togeth­er, expe­ri­ences gleaned from foot­ball, and insights into the writ­ing process.

Bill, a for­mer NFL play­er and col­lege foot­ball coach, told the audi­ence that he first noticed Car­olyn in the fourth grade and was inter­est­ed in her through­out grade school. They start­ed dat­ing in high school and have been insep­a­ra­ble since, mov­ing 34 times to sup­port Bill's foot­ball career while Car­olyn earned her M.A. and Ph.D. in His­to­ry. The cou­ple cel­e­brat­ed their 60th wed­ding anniver­sary in Decem­ber of 2022.

Car­olyn is a his­to­ri­an but switched to fic­tion for Sud­den Death, a mys­tery nov­el with a foot­ball theme. Dis­cussing dif­fer­ent writ­ing styles, Car­olyn explained, ​"In fic­tion, you paint scenes. You talk the way peo­ple talk and write in frag­ments. You even use naughty words." Car­olyn shared that the writ­ing process is repet­i­tive. ​"A good nov­el gets rewrit­ten six times," she said.

When asked what keeps Car­olyn moti­vat­ed, she answered, ​"If you have some­thing that you can do that's new and occu­pies your life, you get lost in it."

The DeKalb Library Foun­da­tion hosts Books+Bites pro­grams to enter­tain the com­mu­ni­ty and keep them informed about local lit­er­ary tal­ent. We thank every­one who joined us for this inspir­ing event.